WHAT MAKES A WEDDING CEREMONY PERFECT?
Your Wedding, Your Way

You will be involved in the construction of the ceremony. I have never done the same ceremony twice. I'll guide you through the process so that every word, every moment will come directly from your hearts.
Express yourselves! Honor your heritage, spirituality, philosophy, family and individuality.
Make it the perfect length, short or long.



Peace of Mind

1. No surprises. What you and I create together is what will happen. I promise I won't go off on a tangent sermon of my philosophies about … whatever. It is your wedding. I consider it sacred.
2. Resolve conflicts. Are you worried about someone ruining your wedding ceremony with their own agenda? I can guide you through the conflict so that you won't have any distractions while you are exchanging your vows.



Attention to Detail

Everything attached to the ceremony will be addressed during the creative process.
I'll arrive early on your wedding day to make sure your photographer, videographer, musicians and dj know what to expect.
If you are working with a wedding coordinator, I will email the ceremony to her/him days before your event.
I'll give you all the relevant information regarding your marriage license to help you make the best choices that fit your situation.
I'll take care of completing your marriage license paperwork and sending it to the clerk/recorder.



You are Safe.

My only goal is to help you create incredible memories that you will treasure for the rest of your life.
You won't have to think during the wedding ceremony. I'll guide you through each step.
I'll protect you, to the best of my ability, should anything unexpected happen during the ceremony. I have over 45 years experience with live events, from very small, intimate ceremonies to large international television productions.

Joy

You are getting married! You have what everyone yearns for; love, happiness, hope, romance and your beloved. Let's celebrate!

Money Back Guarantee

If you are not completely satisfied with the content and performance of your wedding ceremony, I will refund 100% of my fees.
RevHufft@mac.com
(323) 936-9027
---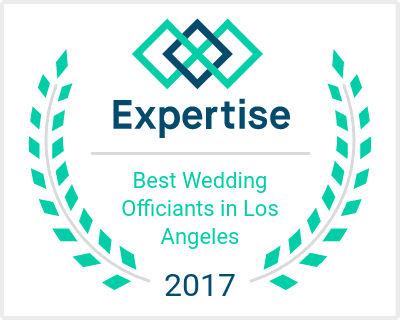 ​<!-- Start of HubSpot Embed Code -->
<script type="text/javascript" id="hs-script-loader" async defer src="//js.hs-scripts.com/3470293.js"></script>
<!-- End of HubSpot Embed Code -->